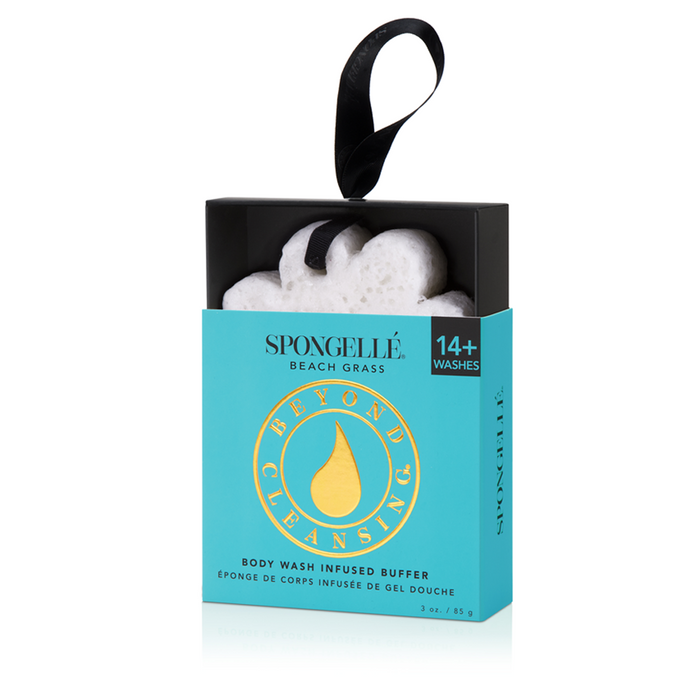 Looking for the perfect gift for your gal pals? Our most popular Beach Grass fragrance adorned in a charming gift box delivers the windswept sensation of being on an extended holiday. The body wash infused sponge coalesces with aquatic, woody, and spicy notes and gentle body-buffing exfoliators for an escape from the every day. You will want to pick up more than one of these for a gift and be sure to grab one for yourself!
Smells Like
Invigorating walks along the shoreline

Feels Like
An escape to a sandy beach far, far away
Fragrance Notes 
T: spicy, fruity, green M: jasmine, rose, powdery B: aquatic, woody, musk
How to use: 
Nestle into an unforgettably refreshing cleansing experience with our perfectly wrapped boxed collection. Unleash Spongellé's creamy fragrance by placing your body wash-infused buffer under running water to reveal an airy, cloud-like hybrid of exfoliating massage and silky aromatic cleansing. Patented technology ensures a minimum of 14+ washes.
Rinse and squeeze out excess water after each use. Sponge can be re-purposed after complete use.